Artist Profile.
Classroom Riot.
Classroom Riot have only been a Band for 2 Months but have already had 4 Performances and are Fairly well known to a small Fan base. The Band consists of Nathan Phillips (lead singer) Andrew Spall (lead Guitarist) and Ian Spall (Drummer). They Get there Inspiration from Lazlo bane, System of a down and wheatus. There next Performance will be at the ACE in September and a later concert in december which yet has no Details released.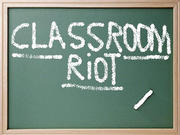 Band Info.
Genre- Rock.
Nathan Phillips- Singer.
Andrew Spall- Lead Guitarist.
Ian Spall- Drummer.
Band Photos.
Band Website.